PERMANENT JEWELRY NOW AVAILABLE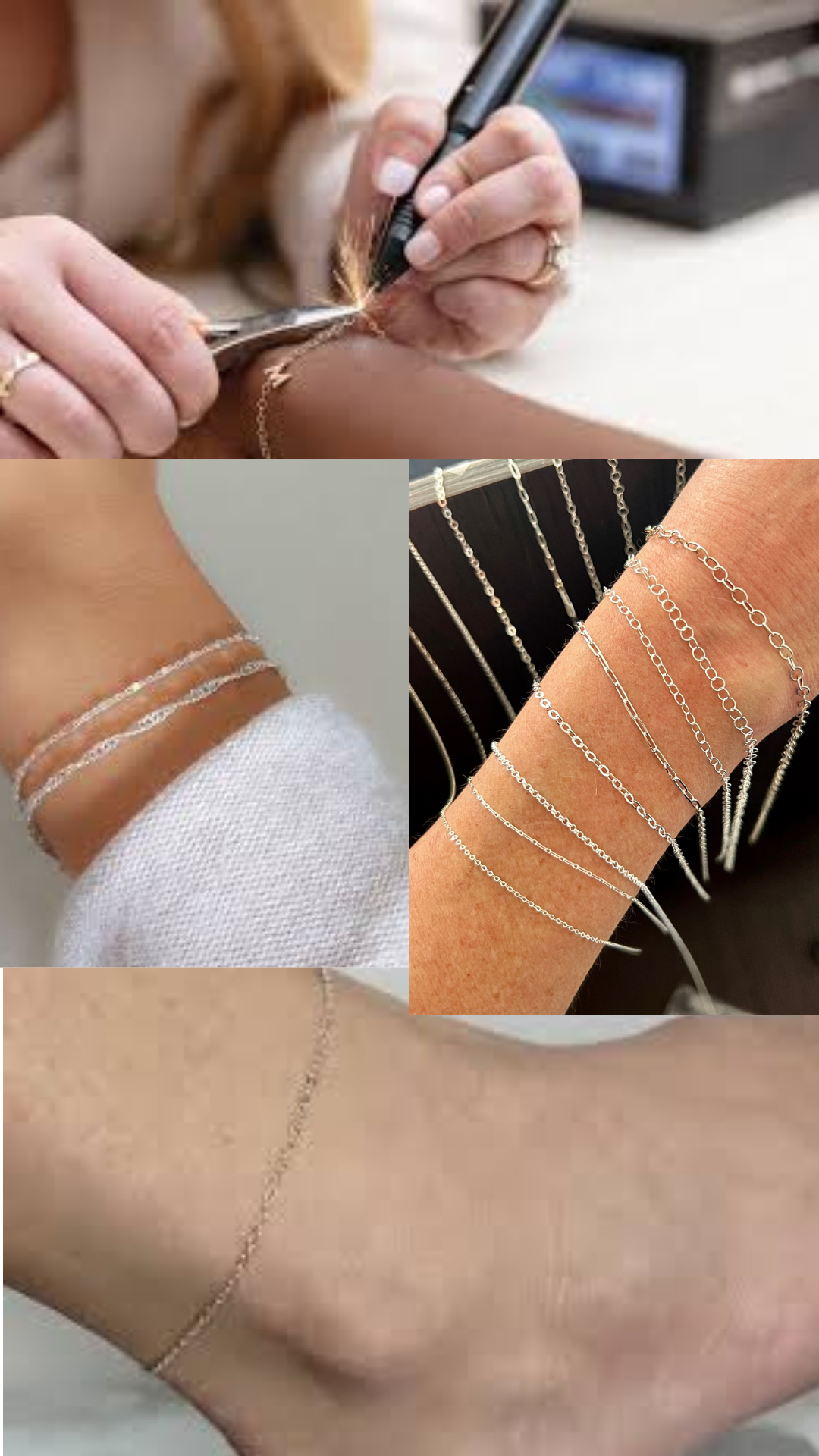 Get Sparked!
What is permanent jewelry?
Permanent jewelry is a custom fit chain bracelet, anklet or necklace designed to be worn all the time. Permanent jewelry is, quite literally, jewelry you don't intend to take off and has no clasp. But no worries, you can snip it off with scissors if you really need to!
How do you put it on? Does it hurt?
We join the piece by "sparking" it together around your wrist or ankle with a special welding instrument at our studio. It's quick (book a 30 minute appointment) and completely painless. Voilá! Now you're always wearing a piece of jewelry that looks sharp and fits you perfectly.
Grab your buddy and make your appointment
We offer 30-minute appointments to give you time to select your chain and add any embellishments. Time permitting, you can get up to 3 chains sparked on in one appointment. Pro tip:  Several bracelets look fabulous together!
Reservation Fee $5
See our availability and book online
$50 for sterling silver bracelet, $90 for gold filled bracelet.
$65 for sterling silver anklet, $110 for gold filled anklet
Necklaces starting at $95

Book Now
Bracelets

Sterling Silver $50
Gold Filled $65

Anklets

Sterling Silver $90
Gold Filled $110

Gemstone Links starting at $21
About Permanent Jewelry
Why get permanent jewelry?
Jewelry has served as a symbol since the beginning of time. Permanent jewelry is a new way to express yourself…to symbolize something personal to you like your emotion, identity, intention or commitment. Or simply to mark a moment in time with a friend or loved one. 
Friends and family often get a matching set "sparked" on together. Think of it as a next level friendship bracelet that has special meaning with the added bonus of being stylish, shiny and strong enough for your everyday adventures. 
We offer a variety of chains from petite and delicate to thicker and more masculine. Chains are available in sterling silver, gold filled or 14k gold and are versatile enough to go with any other jewelry you wear. All chains are hypo-allergenic, nickel-free, resist tarnish…and sparkle!
At Silverwork Studios, you can personalize your jewelry with a custom-stamped charm or gemstone in our make-your-own jewelry workshop. We'll help you create your dream bracelet or anklet that you'll absolutely love wearing. 
Book Now
Our permanent jewelry selection includes .925 sterling silver, gold filled and 14k gold. Wondering about gold filled? Us too! Here's a helpful graphic, our base metal is sterling silver.