How It Works
Visit our jewelry studio in San Rafael to create a beautiful pendant, ring or bracelet.
Choose from over 30 types of beautiful gemstones, beginners welcome!
Book your session

Book a 2 hour guided jewelry making session at our studio in San Rafael. $75 for session.

Session times are:

Wed, Thurs, Fri: 3pm and 6pm

Saturdays: 11am, 2pm, 5pm

Sundays: 11am, 2pm

Book Here

Get inspired

Check out the inspiration pieces on our website to get inspired!

Choose if you are making a necklace, bracelet or ring, and think about the type of stone you will chose for your beautifully unique piece of jewelry

Get Inspired

Come to the studio

Select a stone that speaks to you and finalize your design with the help of your silversmith. They will also guide you as you make your piece into something uniquely yours.




Learn about our gemstones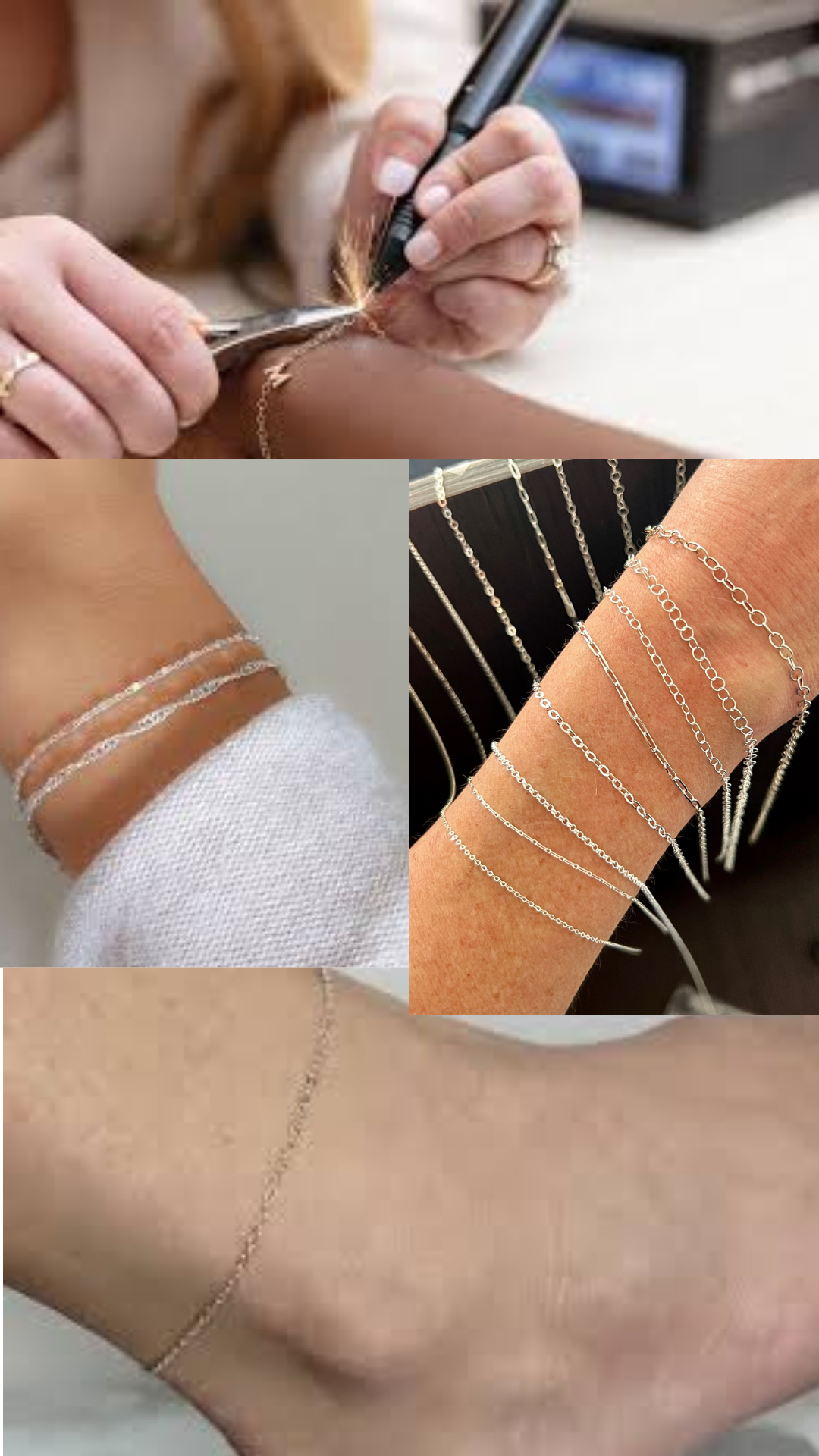 Permanent Jewelry Now Available
Permanent jewelry is a custom fit chain bracelet or anklet designed to be worn all the time.
We join the piece by "sparking" it together around your wrist or ankle with a special welding instrument at our studio. It's quick (book a 30 minute appointment) and completely painless.
Available in sterling silver and gold fill (a thick layer of 14K gold over sterling silver), be sure to customize with our vast selection of gemstones and stamps.
Learn More
Studio Sessions
Choose from our studio session options:
Most popular: 2 hour session to create a ring, necklace, earrings or bracelet using a premade sterling silver bezel and one of our beautiful semi precious gemstones.
Bezel making session, a more involved process with multiple soldering steps (you can bring your own stone as long as it has a flat back). Plan on a 2.5-3 hour session.
A quicker session while still learning how to solder is to make a sterling silver stamped ring. Choose from one of our hundreds of stamps, and plan on 30 to 45 minutes.
Permanent jewelry sessions: we affix sterling silver or gold filled chain using a micro welder in about 30 minutes.
Inspiration Pieces
Made by complete beginners at our studio! Don't have time to come to the studio to make? We can make it for you.